This crazy self-driving concept car has been spotted prowling the streets of San Francisco.
Redditor sfchillin snapped this photo the car next to our city's oldest moving landmark. How fitting that the sign next on the cable car says "Training Car No Passengers."
sfchillin
 Some other photos:
Some kind of @MercedesBenz concept car promo at Taylor and Columbus in San Francisco. pic.twitter.com/6gFYvxoVNx

— Marty Falatic (@MartyMacGyver) March 5, 2015
We work on more than just film shoots. @MercedesBenz's FO15 Luxury self-driving vehicle is hitting the streets of SF. pic.twitter.com/yzLNrm7DtH — Film San Francisco (@Film_SF) March 4, 2015
So what's the deal with this? It's none other than the Mercedes-Benz F 015 Luxury in Motion research car, for the future when driverless cars will most likely become the norm.
Here are some promo shots of the vehicle:
Mercedes-Benz
Mercedes-Benz
Mercedes-Benz
Blogger Jason Torchinsky noted that the car chose to ignore the "No Parking" painted on the curb. So who gets the ticket?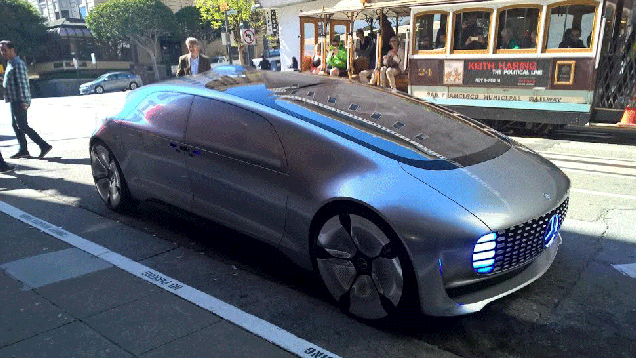 GIF by Jason Torchinsky via Jalopnik
Did anyone else see this? Thoughts?
[Featured Image: Reddit]